School programs and initiatives targeting food, health and families are by no means new. They have long been part of public health agendas. New programs therefore enter into a set of already existing programs and approaches and this has implications for how new programs are taken up and enacted in schools. It is important for us to know about how public health authorities have promoted health messages and tried to manage the population's health previously? How have messages about nutrition, food and health changed over time? How have they stayed the same?
The range of books and pamphlets in our rare books collection tell us some of the back story to contemporary school food initiatives – a story characterised by both continuity and change. Our rare texts range from the late 1800s to the 1960s, when governments intensified their efforts to manage the population's health through disease prevention and health promotion. Good health and nourishing the nation were key to the government agenda. Then, as now, schools were involved in realising this agenda. As governments focused on the diet of schoolchildren, other stakeholders saw opportunities in the education sector. For example, Cadbury and other food and beverage companies provided branded texts for school projects. Today, Nestlé and other commercial interests are involved in developing resources for nutrition and food education.
Various organisations also began to instruct the public, particularly mothers, on caring for families. Government, not for profit, commercial and media organisations all produced health resources. 'Advice to mother' publications offered menu ideas and advice on children's diets. These gendered texts addressed mothers alone, and public health campaigns continue to use similar language today.
So, questions emerge. How effective have school food campaigns been over time? Who should be responsible for this work? And how far have we really come?
HEALTH AND TEMPERANCE
These books are related to the health and temperance movement which was at its peak in the late 1800s – early 1900s. During this time good health was part of a national project and books provided advice on how to live a healthy and temperate life. As time passed and technology changed, children's radio programs with accompanying health workbooks became a feature of classrooms. The early connections made between morality and health continue to linger. Additionally, elements from the various activities utilised in workbooks can still be seen today in health education classrooms.
All items featured on this page have been digitised in full and are available in Monash Collections Online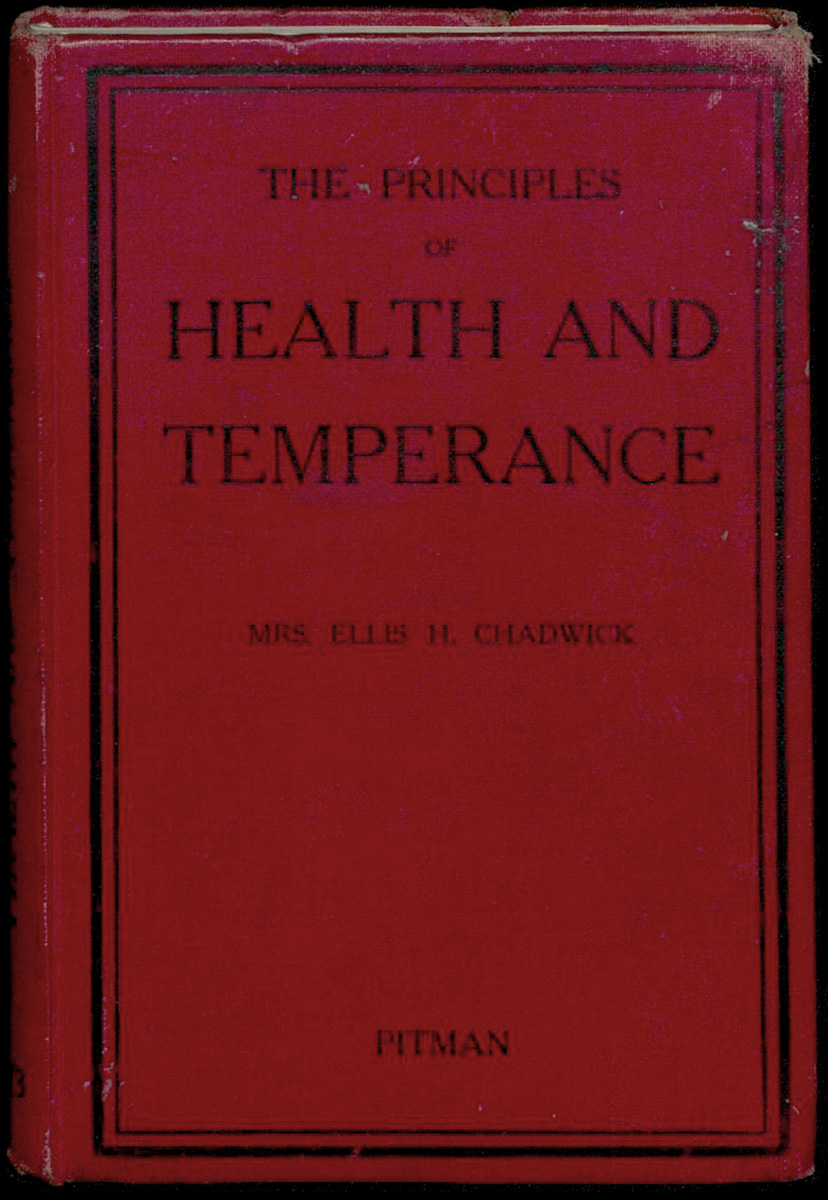 1912
MRS. ELLIS H. CHADWICK (1882-1928) THE PRINCIPLES OF HEALTH AND TEMPERANCE LONDON: SIR ISAAC PITMAN AND SONS Esther Alice Chadwick begins her book with the Greek etymology of hygiene – hygeia. She argues that 'by studying hygiene we learn how to prevent sickness and disease, to keep the body and mind strong and alert, and to preserve their powers as long as possible.' She focuses on both the role of society, and of the individual. The first half contains extensive chapters on how to create personal health through selecting meat, vegetables, diets, exercise, etc. The second part of the book explores how this transforms into temperance, which for her supports the development of society.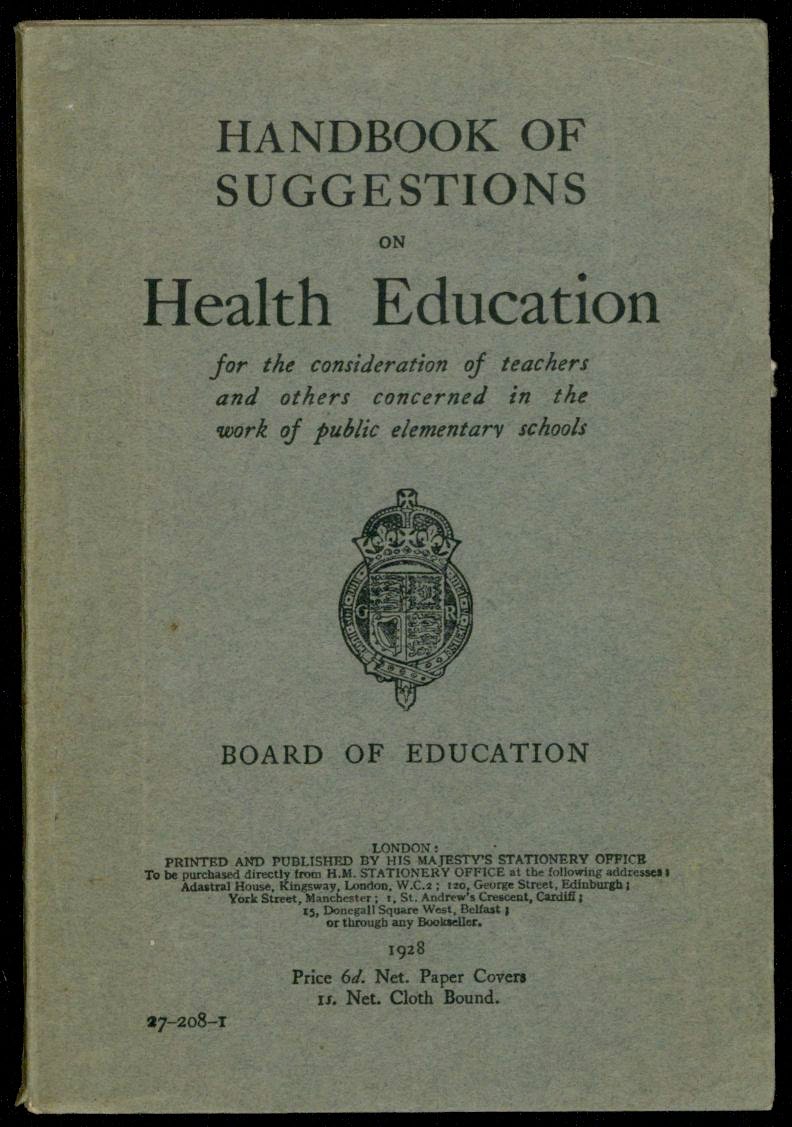 1928
HANDBOOK OF SUGGESTIONS ON HEALTH EDUCATION FOR THE CONSIDERATION OF TEACHERS AND OTHERS CONCERNED IN THE WORK OF PUBLIC ELEMENTARY SCHOOLS BOARD OF EDUCATION (GREAT BRITAIN) LONDON: BOARD OF EDUCATION This book was a Manual on Health Education to be used by teachers across the hygiene syllabus. It has two main parts, 'Subject Matter for Health Practice and Health Talks for Young Children' and 'Outlines of Health Lessons for Older Children'. The author hoped that teachers would not use it prescriptively but as a guide to the 'generally accepted principles of hygiene upon the observance of which, in the ordinary daily life of the individual, the development and maintenance of sound bodily health depends.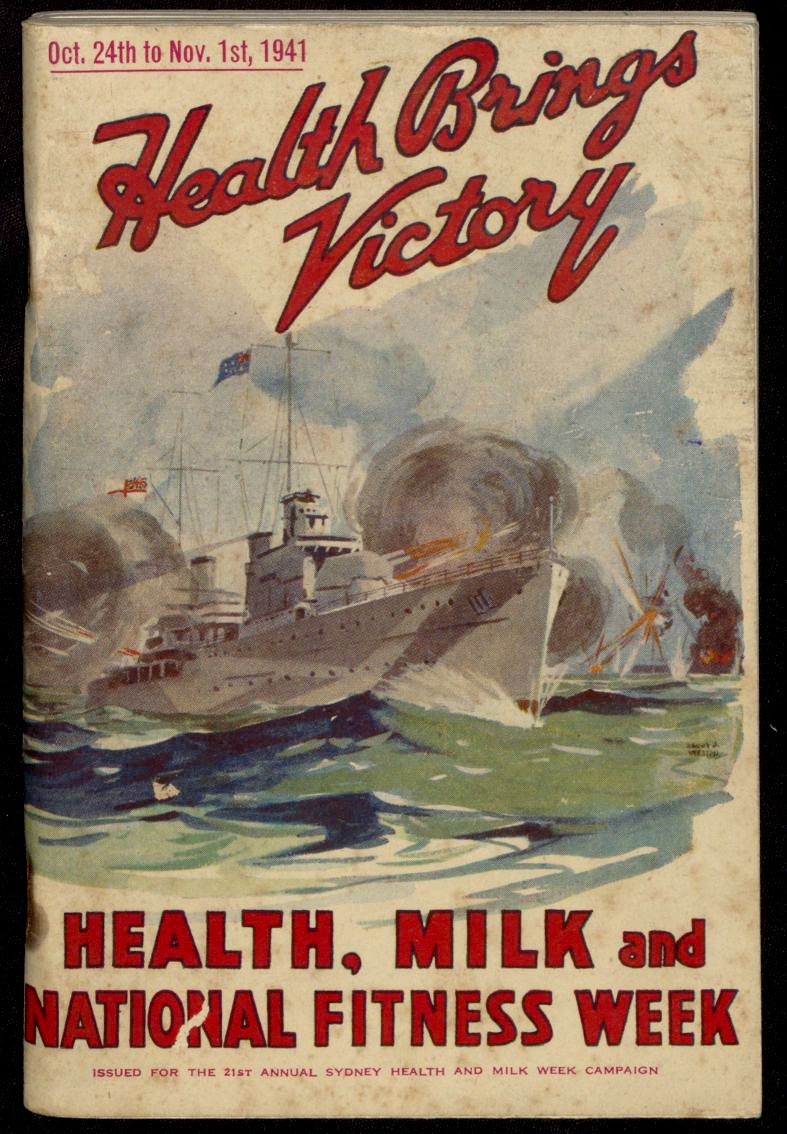 1941
NEW SOUTH WALES HEALTH WEEK COUNCIL HEALTH BRINGS VICTORY: HEALTH, MILK AND NATIONAL FITNESS WEEK SYDNEY: S.N., OCT. 24TH TO NOV. 1ST, 1941 Produced in the first half of the 20th century for of the 'Twenty-First Annual Sydney Health and Campaign'. Health Week was founded in 1921 Harvey Sutton and Dr J S Purdy 'to focus public one week in the year on matters of health', in particular good health relies on personal responsibility. on how to get value out of food, as well as recipes advertisements. Health weeks continue to be schools deliver health content.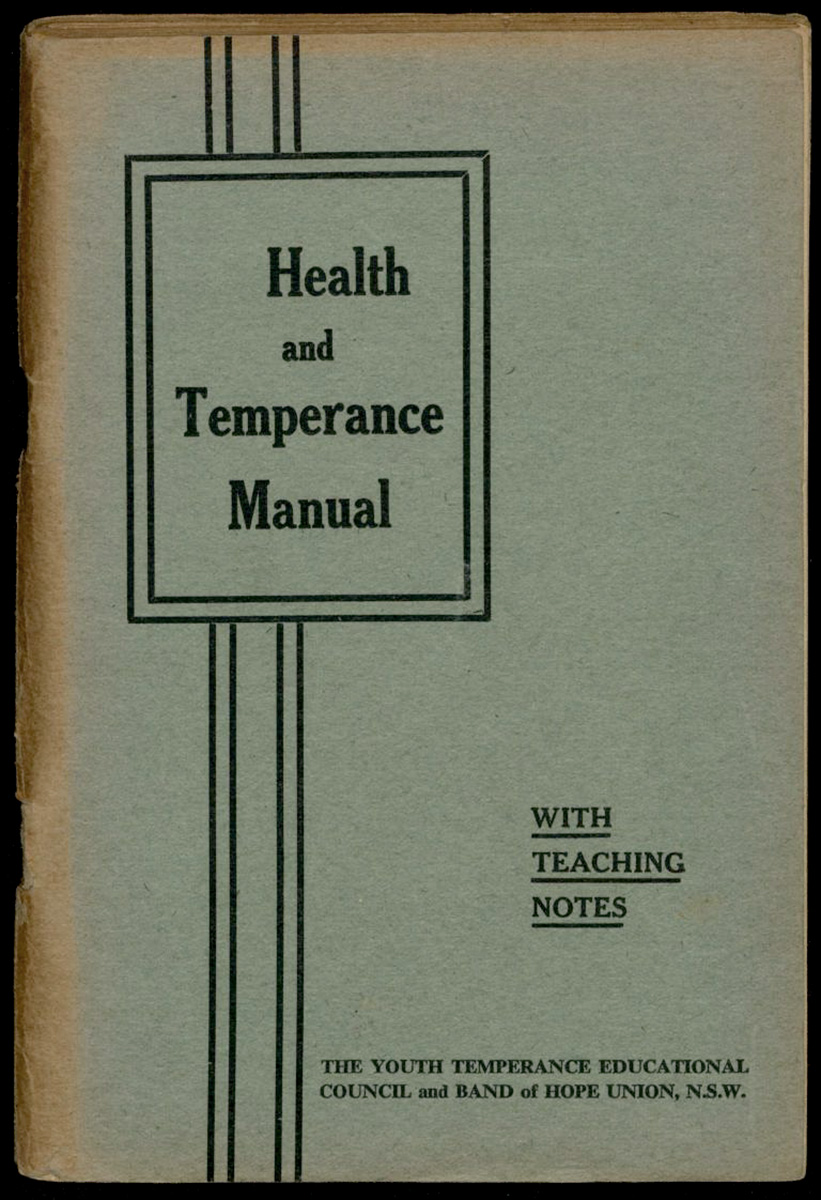 1957
VICTOR E. STANTON HEALTH AND TEMPERANCE MANUAL WITH TEACHING NOTES SYDNEY: PACKER PRESS Compiled for The Youth Temperance Educational Council and Band of Hope Union, NSW, the manual was used to instruct children in higher grades in primary school. It followed the curriculum as outlined by the New South Wales Department of Education and provided teaching notes and experiments. Similar to Brodribb, it provided topics on hygiene, temperance and elementary first aid. Stanton hoped that it would be useful for children's clubs and societies as well as being a general reader.
1958
AUSTRALIAN BROADCASTING COMMISSION (1933-1983) HEALTH AND HYGIENE SYDNEY: COMMONWEALTH OFFICE OF EDUCATION AND THE AUSTRALIAN BROADCASTING COMMISSION During the 1950s, radio programming was developed for primary school children throughout Australia to learn about health. For three terms, six units of study were broadcast weekly, covering topics such as: the body, food, national health, disease, living together and growing up. The emphasis here is on maintaining a 'reasonable' balance in food between 'complete foods' (protein), 'balanced foods' (fruit and vegetables) and 'incomplete foods' (carbohydrates and sweets).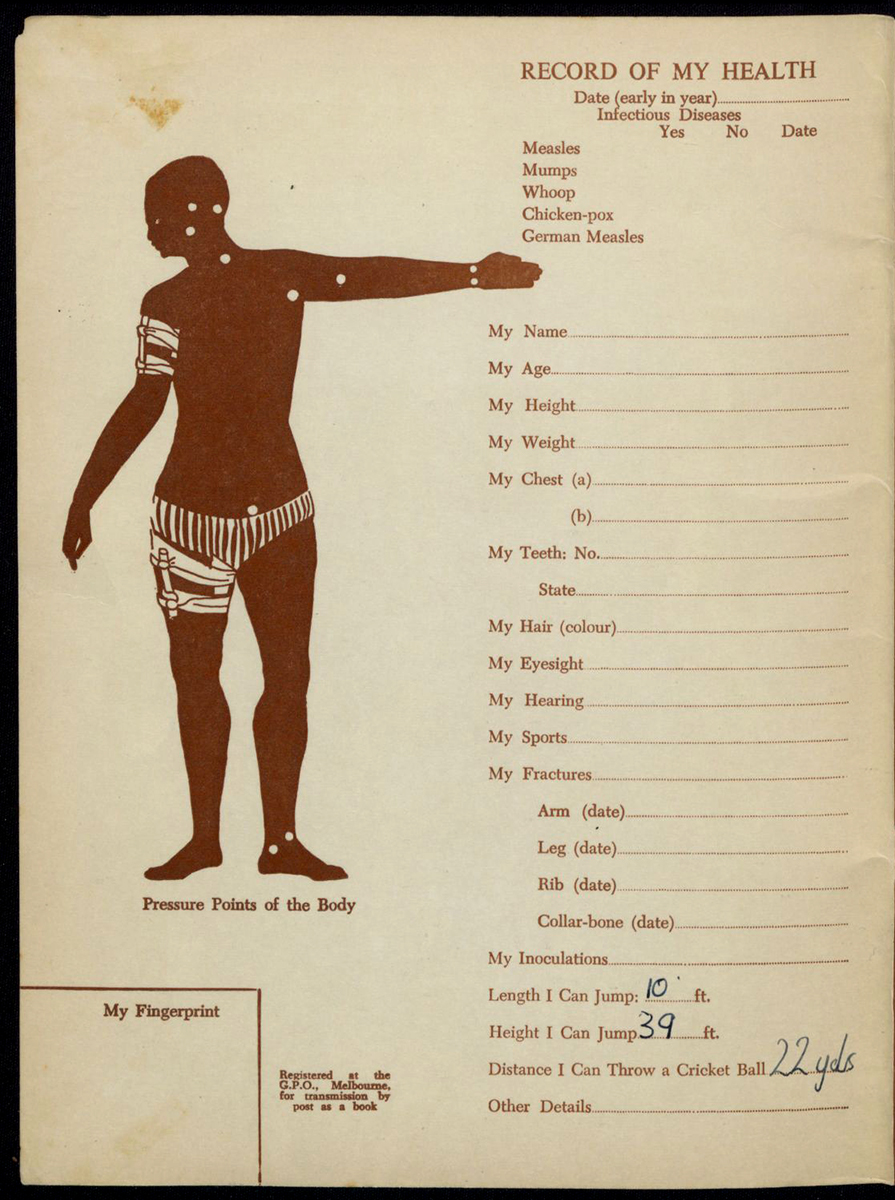 1961
WHITCOMBES "HEALTH NOTEBOOK" SERIES MY NOTEBOOK OF HEALTH FOR GRADE 6 & FORM 1 MELBOURNE: WHITCOMBE & TOMBS Record of Health was designed for children to record bodily measurements, and covered topics of health such as, fresh air, sunshine, food, clothing, exercise, rest, sleep. The food advice given is combined with basic anatomical functions. Unlike other notebooks that focused on health alone, the goal was for primary school children to achieve happiness through good health, reflecting a move away from health being confined to the body. The recording of body measurements is still a part of school programs today.
ADVICE TO MOTHERS
These books represent a small selection of the types of books that were available to mothers throughout the twentieth century. There were a large range of materials that specifically targeted mothers in an attempt to shape mothering and family life. The books were written by the Health Department, medical specialists, concerned individuals and community groups. Much of the guidance on offer is pedagogical, with an aim of 'instructing' women implicitly and explicitly on how to be good mothers. Advice is promoted through illustrations, feature articles, advertising, and advice columns.
All items featured on this page have been digitised in full and are available in Monash Collections Online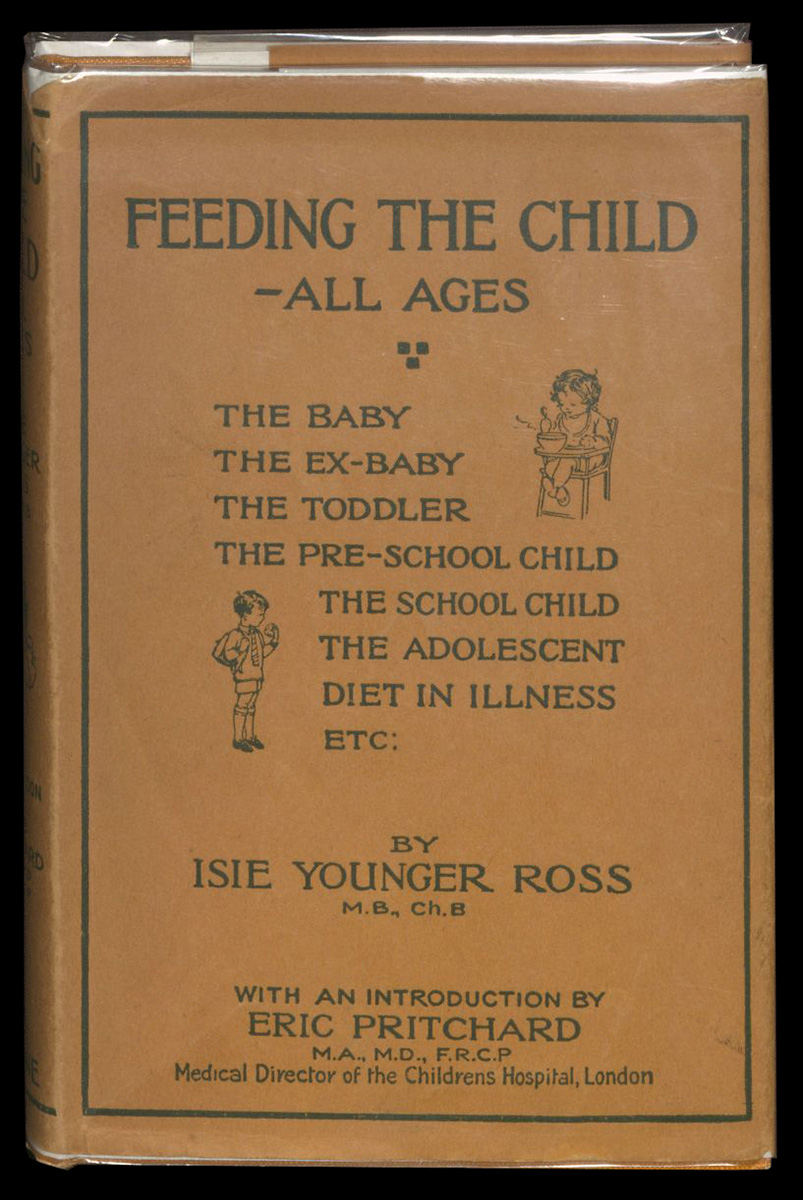 1929
ISIE YOUNGER ROSS (1887-1956) FEEDING THE CHILD – ALL AGES: FOODS THAT PROMOTE GROWTH, HEALTH, MENTAL AND PHYSICAL DEVELOPMENT WITH SPECIMEN MENUS, RECIPES, ETC. LONDON: FREDERICK WARNE & CO Dr Younger Ross wrote this book 'primarily for mothers with the intent of helping them in the many difficulties which arise in feeding their children'. The book covers all stages of childhood, from five to seventeen years of age. Ross believed that mothers often found it 'difficult to reconcile the findings of science with the practical preparation of food in the home.' Ninety years later, families (and mothers) are still grappling with the same issues, only now with decades of research to work through.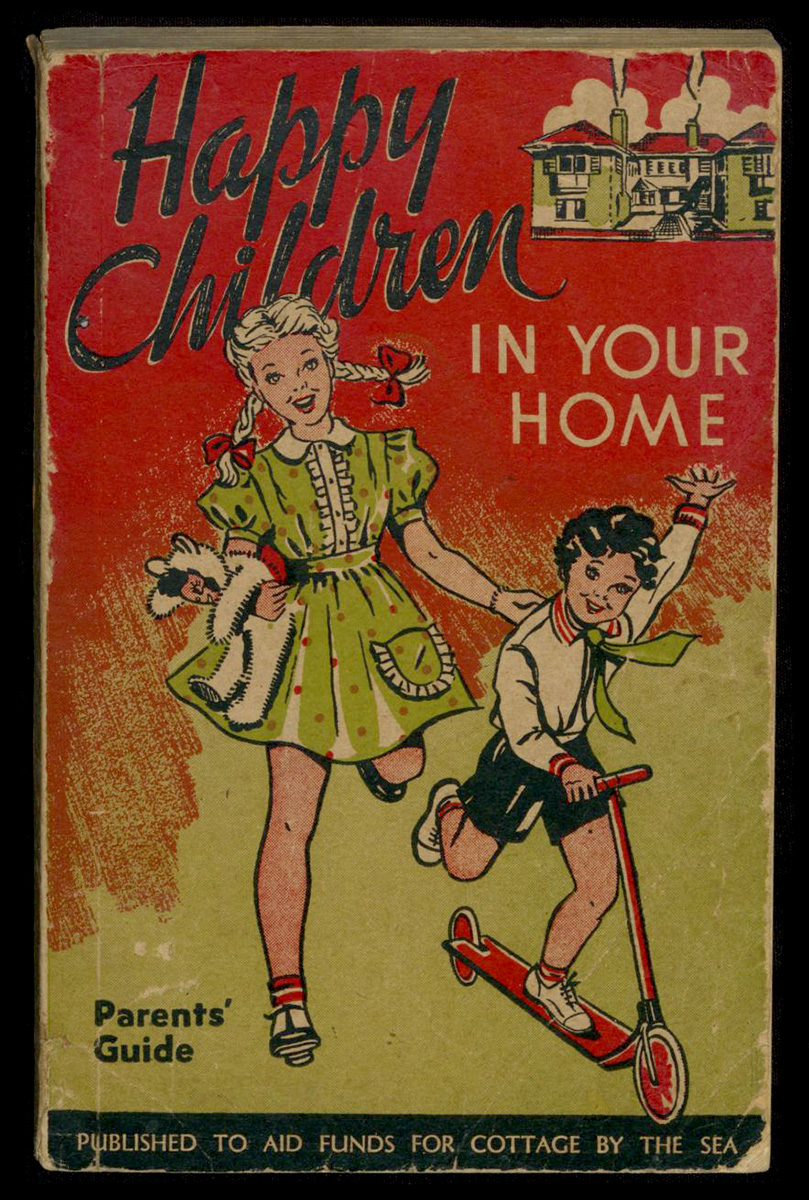 1945
MINISTERING CHILDREN'S LEAGUE HAPPY CHILDREN IN YOUR HOME: PARENTS' GUIDE MELBOURNE: PUBLISHED BY W. CRUICKSHANK FOR THE MINISTERING CHILDREN'S LEAGUE Advice to mothers was also present in more general parenting guides. Happy Children is a wide-ranging guide for parents on child-raising, cooking, amusements, first aid, gardening. Clear here is the struggle to get mothers' attention. Chapters such as 'Butter as an Aid to Good Health', 'Meat Values' and 'Ice Cream - a True Dairy Food' give advice to mothers, while advertisements on each page suggest food, goods and services. Many of these are targeted at ill or convalescing children.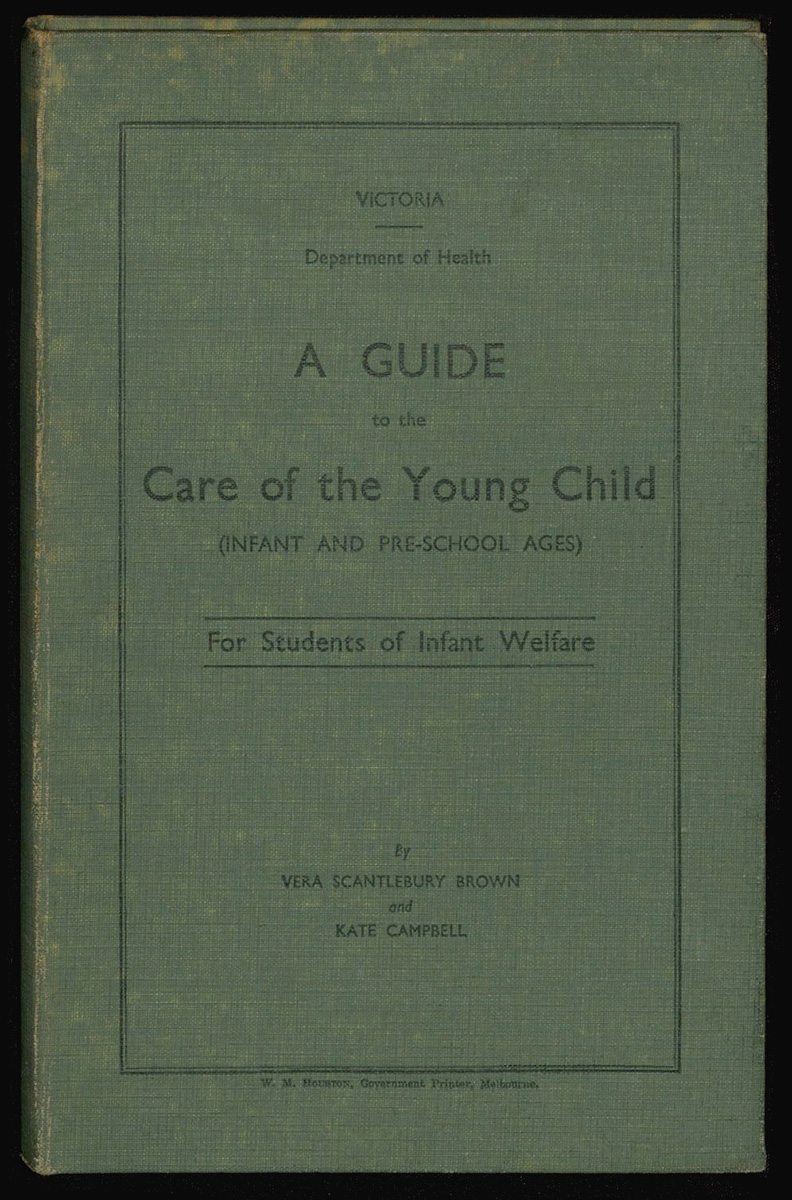 1951
VERA SCANTLEBURY BROWN (1889-1946) AND KATE CAMPBELL (1899-1986) A GUIDE TO THE CARE OF THE YOUNG CHILD: INFANT AND PRESCHOOL AGES. FOR STUDENTS OF INFANT WELFARE MELBOURNE: VICTORIA, DEPARTMENT OF HEALTH A Guide provides textbook material for Infant welfare nurses, who were at the forefront of the transference of knowledge to mothers about their children. From the research of Dr Scantlebury Brown, it was first published as 'Guide to Infant Feeding' in 1929. After the death of Brown in 1946, Dr Kate Campbell updated the content. The book covers all aspects of the growth and development of young children, incorporating food into the process, whether it is breastfeeding, lunches or general nutrition problems.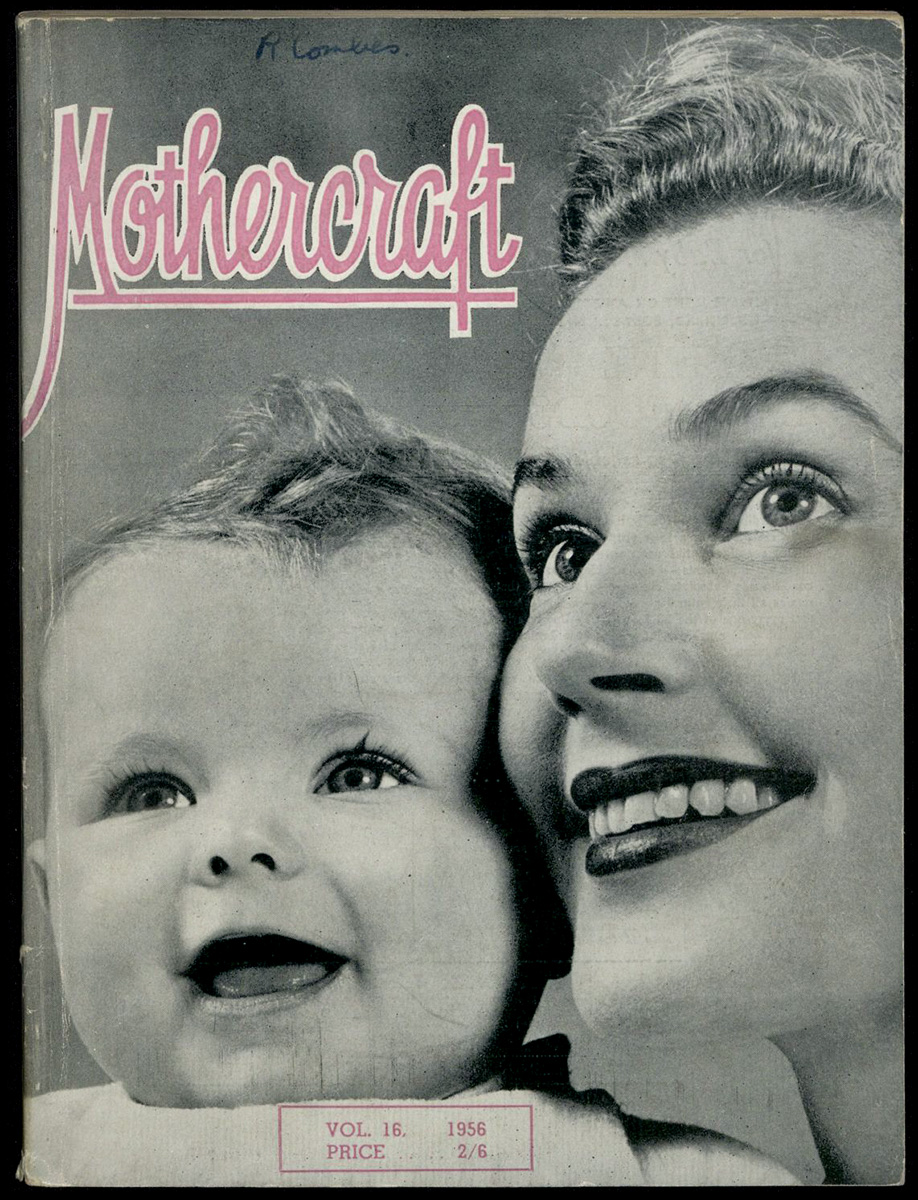 1956
MOTHERCRAFT ASSOCIATION OF QUEENSLAND
MOTHERCRAFT 
BRISBANE: MOTHERCRAFT ASSOCIATION OF QUEENSLAND Founded in 1931 by Phyllis Dorothy Cilento (1894-1987), the Mothercraft Association of Queensland aimed to educate women in all areas affecting maternal and child health. Their magazine does so with a cross section of advice regarding the importance of vitamins, and how to incorporate them into food before recommending to mothers what they should feed their children for breakfast, lunch, afternoon tea, and dinner
SCHOOLING FOOD
This case highlights books and pamphlets related to 'schooling food'. Earlier publications outlined the reasons why the diet of school children should be a focus for families, schools and government. Throughout the war, malnutrition featured as a societal problem which a number of community organisations sought to alleviate. The results of some of these projects are featured in these pamphlets. Food and beverage companies, such as Cadbury, provided many texts that were considered suitable for school projects.
All items featured on this page have been digitised in full and are available in Monash Collections Online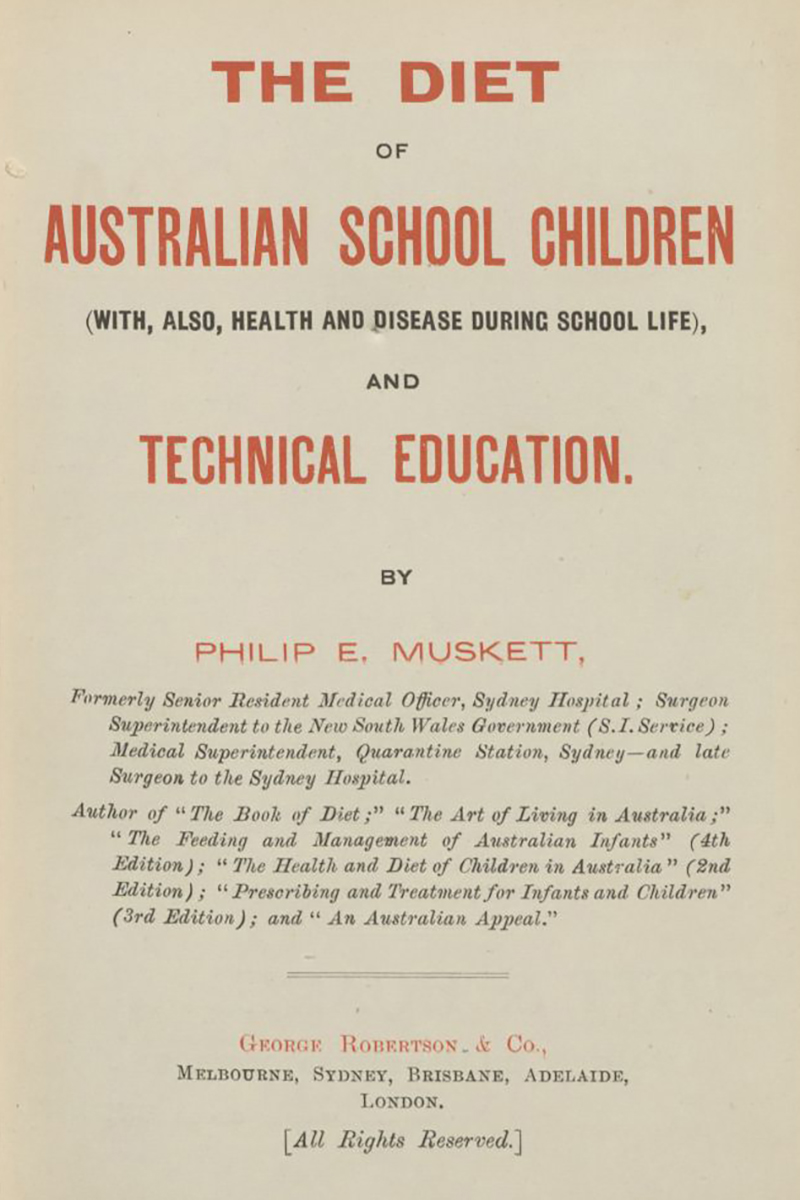 1899
PHILIP E. MUSKETT (1857-1909) THE DIET OF AUSTRALIAN SCHOOL CHILDREN: (WITH, ALSO, HEALTH AND DISEASE DURING SCHOOL LIFE), AND TECHNICAL EDUCATION MELBOURNE: G. ROBERTSON & CO. In another introduction to reforming diet and health of school children, Philip Muskett pays particular attention to the importance of the Australian climate in relation to all aspects of diet and health. He notes that earlier books were overly dependent on British and American conditions, which were inappropriate for the 'newly developing race' of Australians.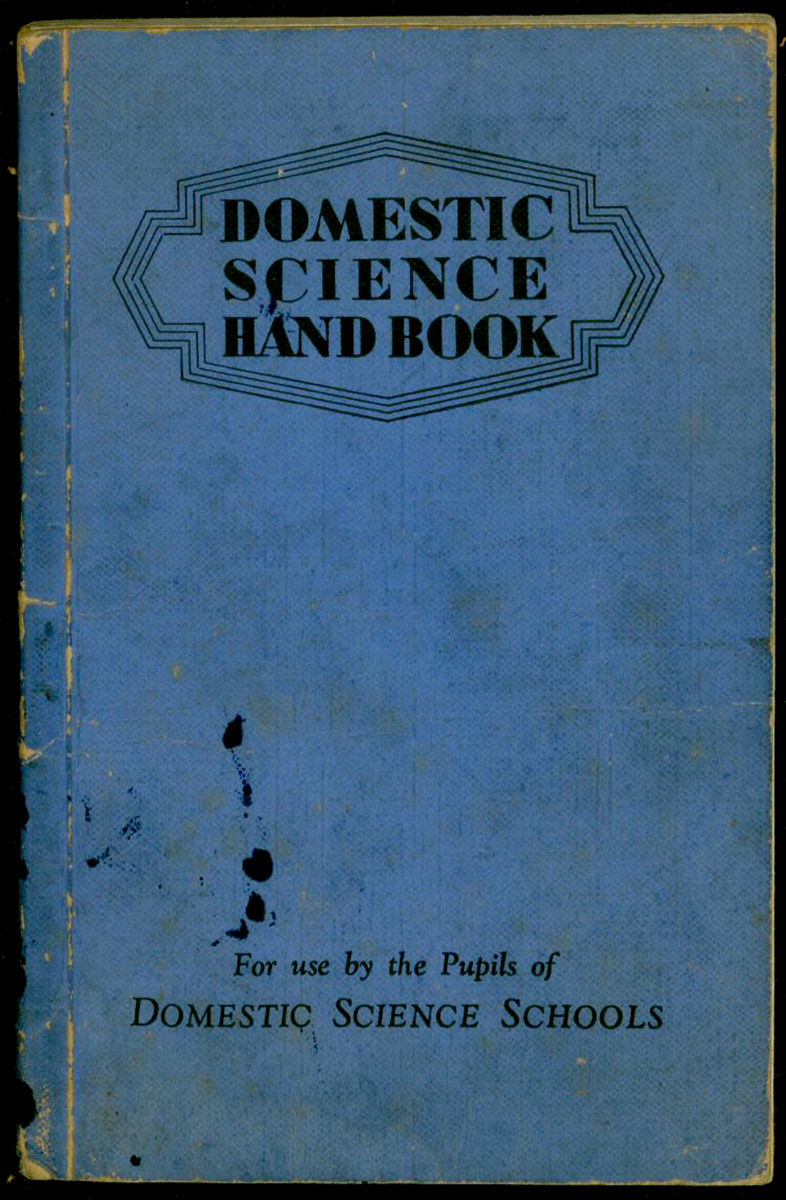 193?
NEW SOUTH WALES COOKERY TEACHERS' ASSOCIATION DOMESTIC SCIENCE HANDBOOK: FOR USE BY THE PUPILS OF DOMESTIC SCIENCE SCHOOLS SYDNEY: NEW SOUTH WALES COOKERY TEACHERS' ASSOCIATION Designed as a comprehensive guide to domestic science suitable for older students, it includes chapters on all aspects of home management including, 'A Glimpse into the Science of Nutrition' and 'Hay Box Cookery', as well as many common recipes. One particular highlight of these early handbooks are the many advertisements for food items, such as, 'Rosella Jams & Jellies', 'ETA Peanut Butter' and 'McKenzie's Coffee Essence'.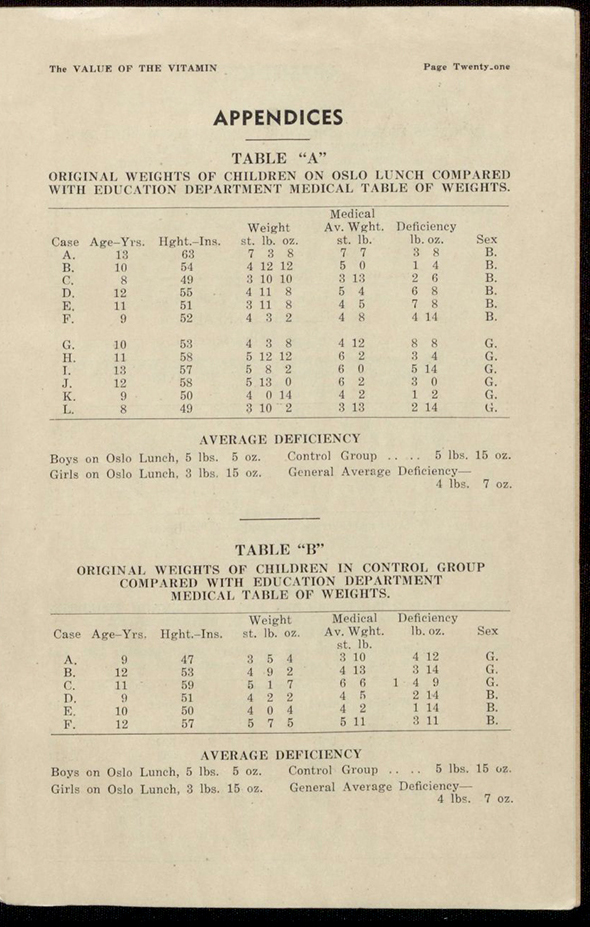 1941
ROBERT A. GARDNER (1916- 2002) THE VALUE OF THE VITAMIN: THE STORY OF THE OSLO HEALTH LUNCH EXPERIMENT MELBOURNE: OPPORTUNITY CLUBS FOR BOYS & GIRLS The 'Oslo lunch' - feeding children a wholemeal cheese and salad sandwich accompanied by milk and fruit - was initiated in Oslo, Norway by Professor Carl Shiotz as means to improve the diet of malnourished school children.This booklet tells the story of the first Oslo Lunch experiment undertaken in Australia by Dr John Dale, involving fifty primary school aged children from Collingwood.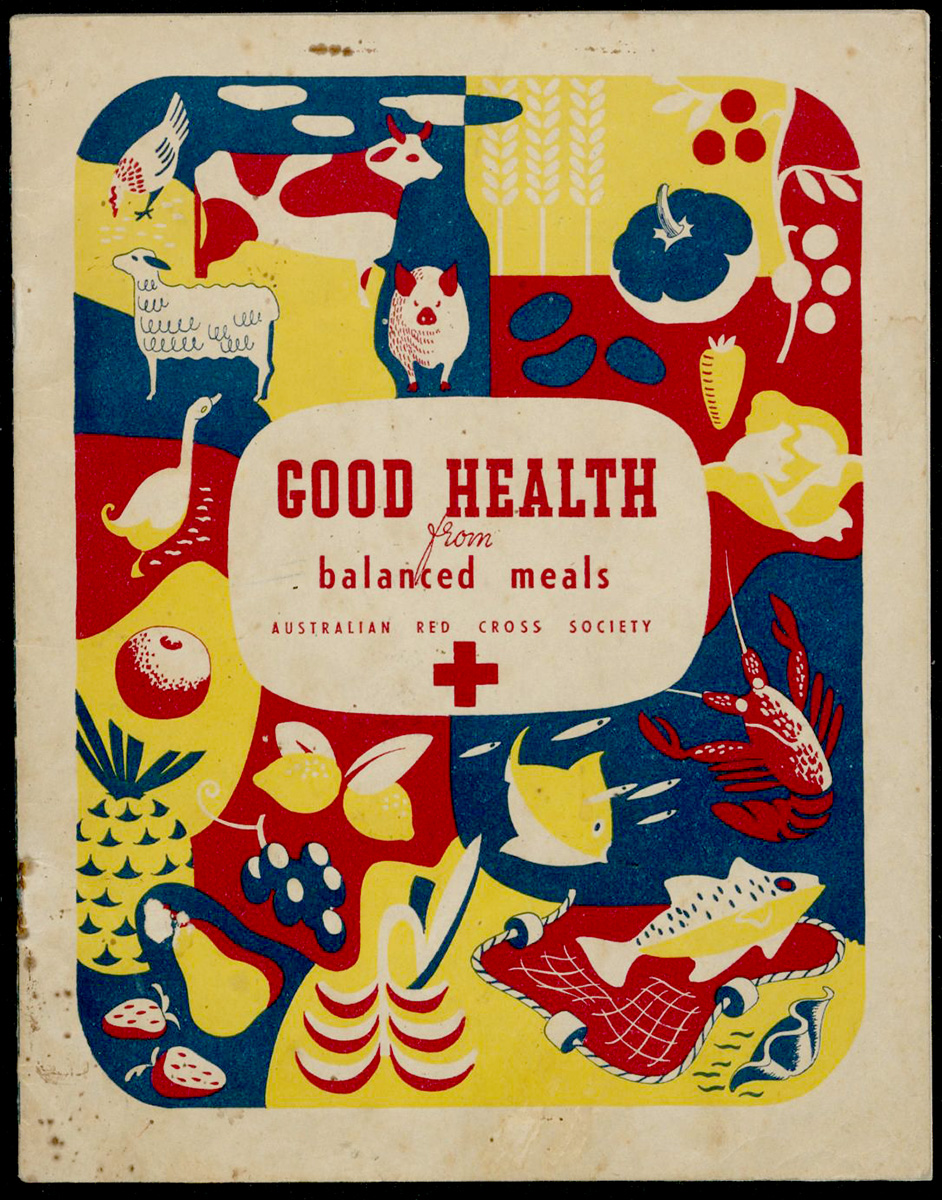 1948
AUSTRALIAN RED CROSS SOCIETY GOOD HEALTH FROM BALANCED MEALS MELBOURNE: AUSTRALIAN RED CROSS SOCIETY Food consumption surveys undertaken in 1936 and 1944 by the Health Department showed that some Australians were not eating the 'right kind of food.' These findings resulted in the production of booklets such as this one, produced by the Red Cross to assist the Commonwealth Government to disseminate nutrition knowledge. It covers the basics of food essentials, providing meal charts that outlined the major food categories (vitamins, protein, calories) across two types of school lunch. (see poster)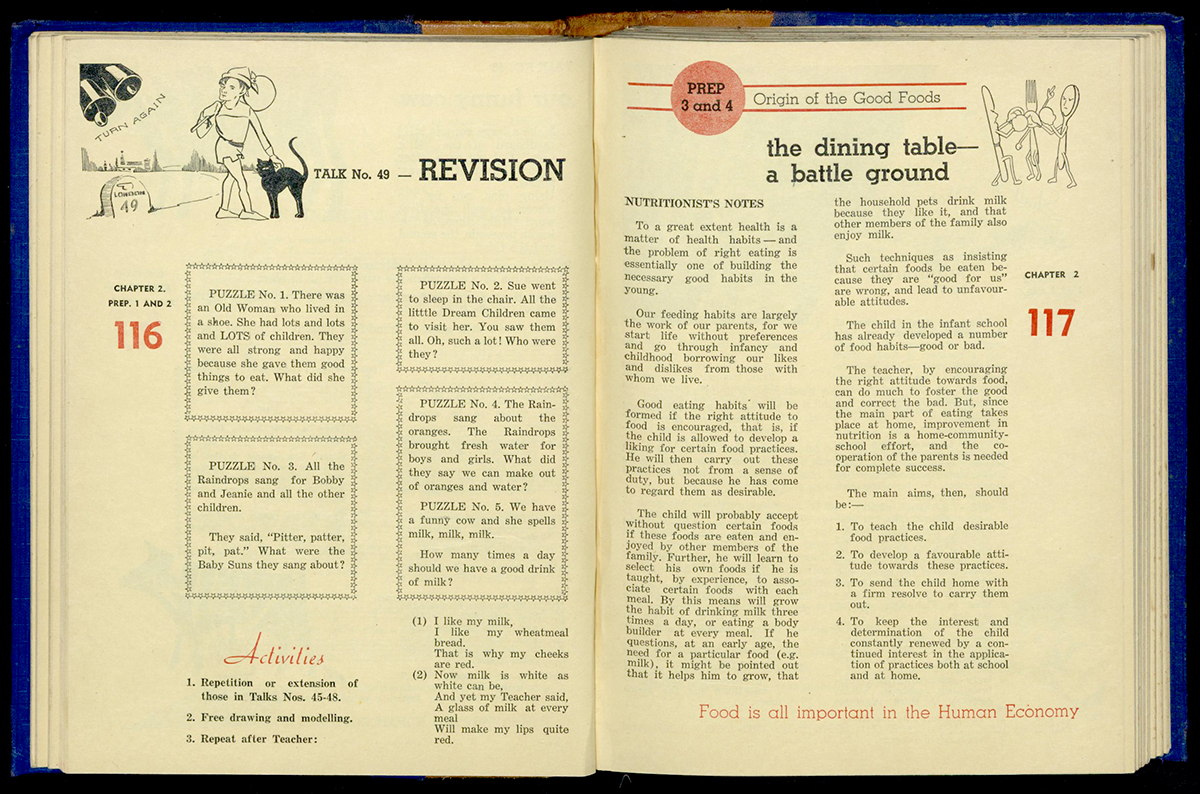 1948
QUEENSLAND HEALTH EDUCATION COUNCIL IN COLLABORATION WITH DEPARTMENT OF PUBLIC INSTRUCTION SUBJECT: HEALTH - A HANDBOOK FOR HEALTH EDUCATION BRISBANE: QUEENSLAND HEALTH EDUCATION COUNCIL As a handbook for teachers to be used in Queensland state primary schools, the book provides a complex array of notes, talks, activities, quizzes, etc. Each topic is tailored to particular student groups, for example, 'origin of the Good Foods' is directed at Grade Three and Four pupils. Notable is the way topic areas such as 'the dining table - a battle ground' show the long association of schools attempting to influence family food practices.